At the request of various bishops' conferences, Pope Francis has changed the date of the World Day of Migrants and Refugees to the last Sunday of September. The World Day for Migrants and Refugees will be held this Sunday, September 29, 2019. The theme for this year's celebration is, "It is not just about migrants."
Pope Francis has always been close to refugees and migrants and has been willing to walk together. His message for this year argues that the problems surrounding refugee migrants are not only theirs, but more of all our problems. In today's society, individualism, utilitarianism, and disposable culture are at the heart of values, and everyone is at risk of being eliminated. Under these circumstances, the empathy that resonates with the deepest human string invites us to feel the pain and encourage action to help those in need.
What is our response to the challenges posed by contemporary migration? According to Pope Francis, our response can be summed up in four words – WELCOME, PROTECT, PROMOTE and INTEGRATE.
For further explanation please read the attached message of our Holy Father. The same has been posted on our website: https://www.omi-japankorea.net/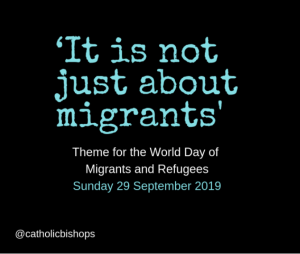 Bradly Rozairo OMI