Fr. Bernard ONDAP OMI – Last December 26-27, 2019, the Japan Oblate Delegation, joined by four diocesan clergy from Takamatsu Diocese, came together for the annual Christmas at Nakajimacho Parish Rectory in Kochi, Japan. The simple yet very meaningful atmosphere started with the Eucharistic celebration presided by Bishop Suwa. In his homily, the Bishop empathized that we should recognize the light that God has given us in our day to day life. We face a lot of challenges as Missionaries and as a Church in Japan, but God never fails to give us that light which radiates hope.
After the Eucharistic celebration, the group moved to the recreation room for the "Gaudeamus". The Oblates spent an hour chatting and sharing their experiences that they brought with them from their respective areas. It was an opportune time to share new memories while remembering the old ones that the former members left behind as their legacies.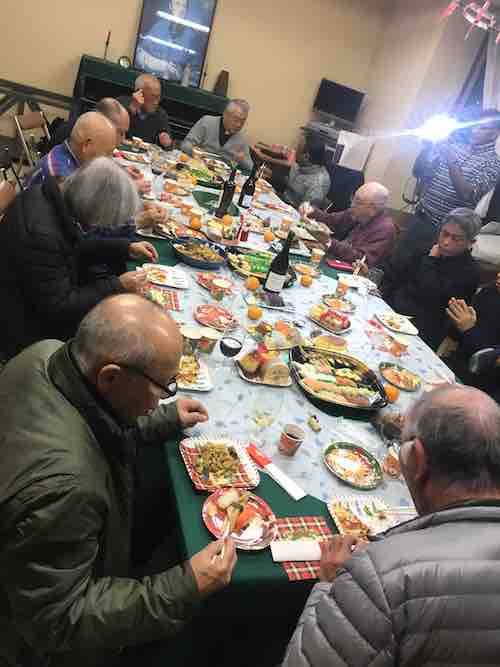 Then the men transferred to the adjacent dining room for a sumptuous Christmas meal. Just like last year, some Oblates shared their culinary skills by preparing some native dishes of their respective countries. Of course, the meal would never be complete without Japanese Sushi and Sashimi. It was indeed an international meal. The day would not be over without the annual and awaited "BINGO game" with a different twist for the winners.
Early the next morning, the Oblates visited the Prefectural Catholic Cemetery where the Oblates who had served the mission were buried. A small liturgy was held in the cold wind offering a prayer of thanksgiving to the men who served the mission before us. It was also an occasion for the younger men to become acquainted with some early history of these early Missionaries by listening to their life-stories. This visit in a way sparked a light among the younger Oblates to continue the legacies started by these early dedicated missionaries now resting in peace.
After the visit to the cemetery, the men, refreshed with enthusiasm to radiate the light which God had blessed them with, headed for the airport, bus and train for the return to their respective missions located on three different Islands.
We thank the Christmas Party Committee composed of Frs. Jerry, Jude and Iru for organizing and spearheading this memorable event.
"When we come together in Kochi for Christmas, we partake in a family tradition where everyone has a sense of belonging, sharing and focusing on Jesus' birth. The Christmas tradition can be a powerful incentive for the Oblate family. For one thing, it brings us closer together. It allows us to spend time together making new memories while remembering the past and those who came before us. It allows us to stop our busy cycle of missionary activities long enough to reconnect and strengthen bonds, much like the traditional Japanese Bonenkai (Year-end party) and Shinnenkai (New Year party)."
Excerpt from Fr. Jerry's Christmas gathering invitation 2019.